ANZAC DAY IN JUBA, SOUTH SUDAN
The 21 ADF peacekeepers on Operation Aslan, the ADF contribution to the United Nations Mission in South Sudan (UNMISS), recently hosted a unique ANZAC Day service in 'Australia House' in South Sudan's capital Juba. Ambassadors from the United Kingdom and Japan, United Nations policemen from Turkey, military personnel from Fiji, Germany, New Zealand, the United Kingdom, the USA and a number of members of the Japan Contingent Engineer Company (JPNCEC), along with several Australian civilian staff of UNMISS attended the service and enjoyed the gunfire breakfast cooked and served by OP ASLAN personnel.
The close cooperation between the JPNCEC and ADF contingent was reflected in the JPNCEC support to the service, which included a photographer and bugler. The ADF contingent in South Sudan liaises closely with the JPNCEC via liaison officer LTCOL James Brownlie, who is assisted by linguist FLTLT Ian Gargano.
The UNMISS Senior Military Liaison Officer - Bor and ADF contingent commander, Colonel David Graham, was unable to attend because of unrest in Jonglei State. The ANZAC Day address was given by the Deputy Commander of the ADF contingent and UNMISS Chief Logistics Officer, LTCOL Adam Hogan. LTCOL Hogan said it was fitting that representatives of countries contributing to bringing peace to South Sudan included both friends and foes from past conflicts. LTCOL Hogan welcomed the willingness of all nations' representatives to join in remembering the sacrifices of Australian and New Zealand soldiers in the service of freedom and peace.
WO2 Andrew Crook, who is part of the UNMISS Training and Evaluation Cell, oversaw construction of the modest and fitting site for the service and read the Soldier's Prayer. His predecessor, WO2 Daniel 'Duck' Donald, had miraculously arranged for two flag poles to appear in the Australia House garden. New Zealand's Senior National Representative, LTCOL David Neal, also spoke about the importance of the Gallipoli landings to the forging of a national identity and how the commemorations continue to reflect the close links between Australia and New Zealand and our shared values.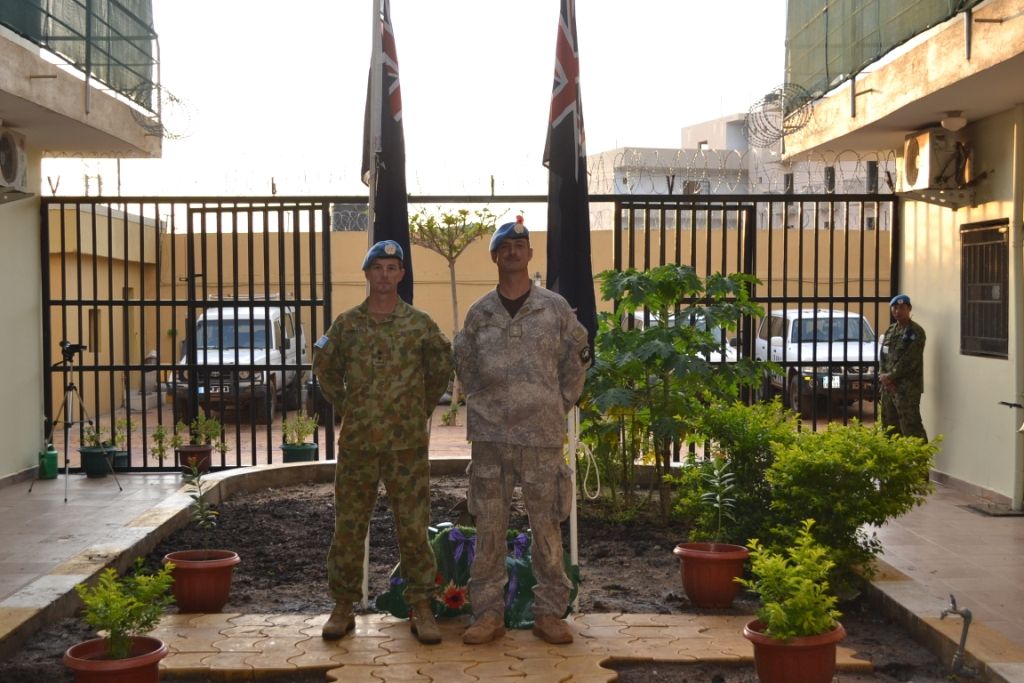 Lieutenant Colonels Adam Hogan and Dave Neal at the ANZAC Day service in Juba, South Sudan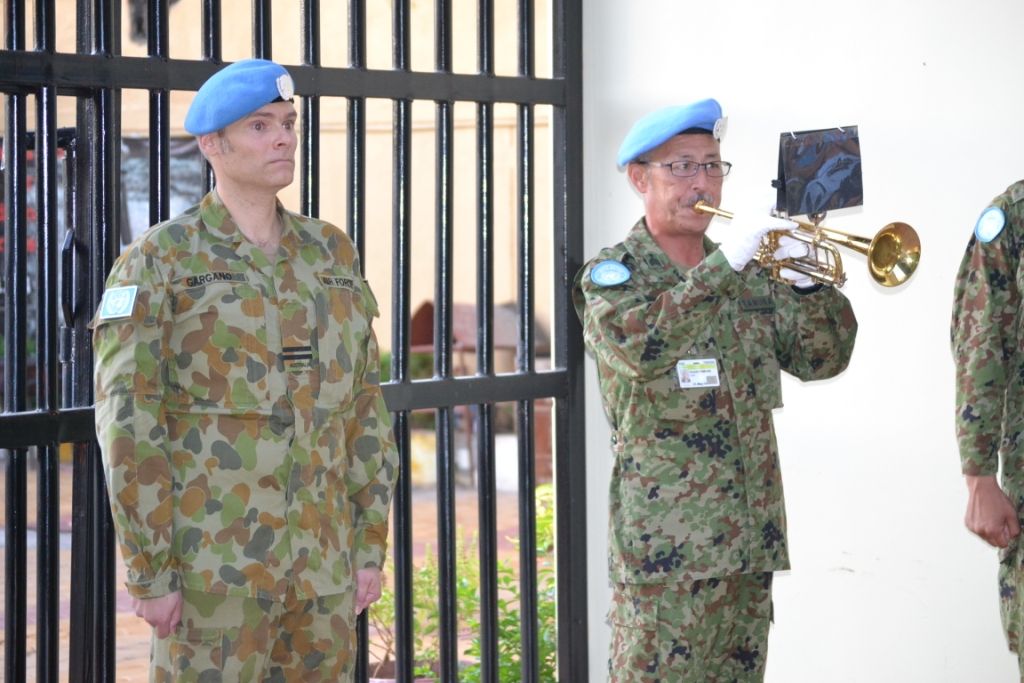 MSGT Tamura, JSDF Bugler and FLTLT Ian Gargano, ADF-JSDF Linguist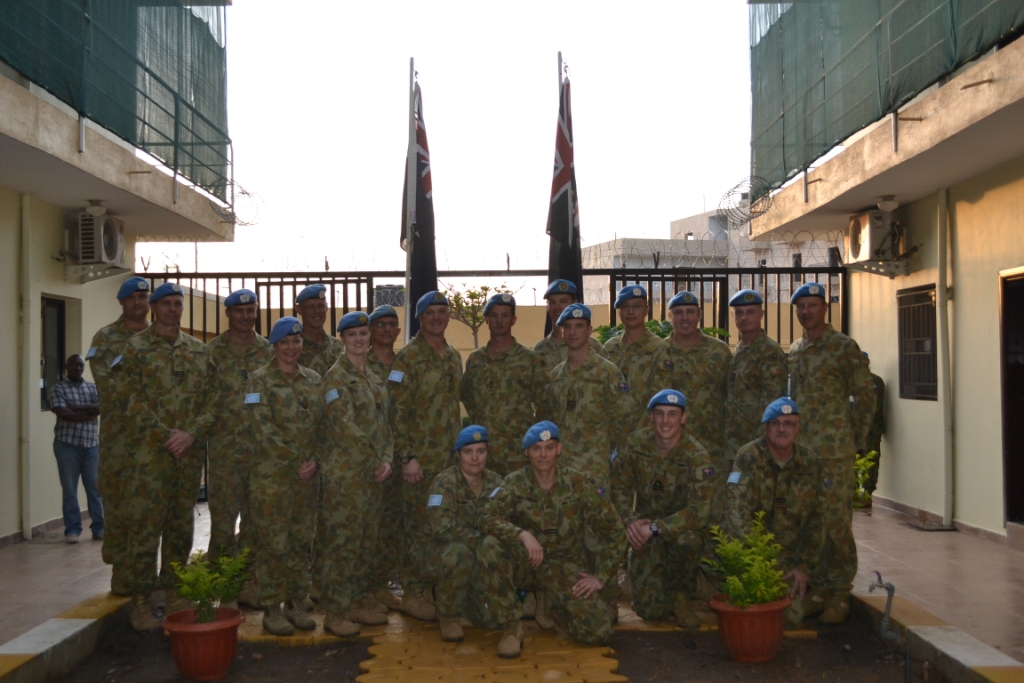 The ADF contingent for Operation Aslan at the ANZAC Day service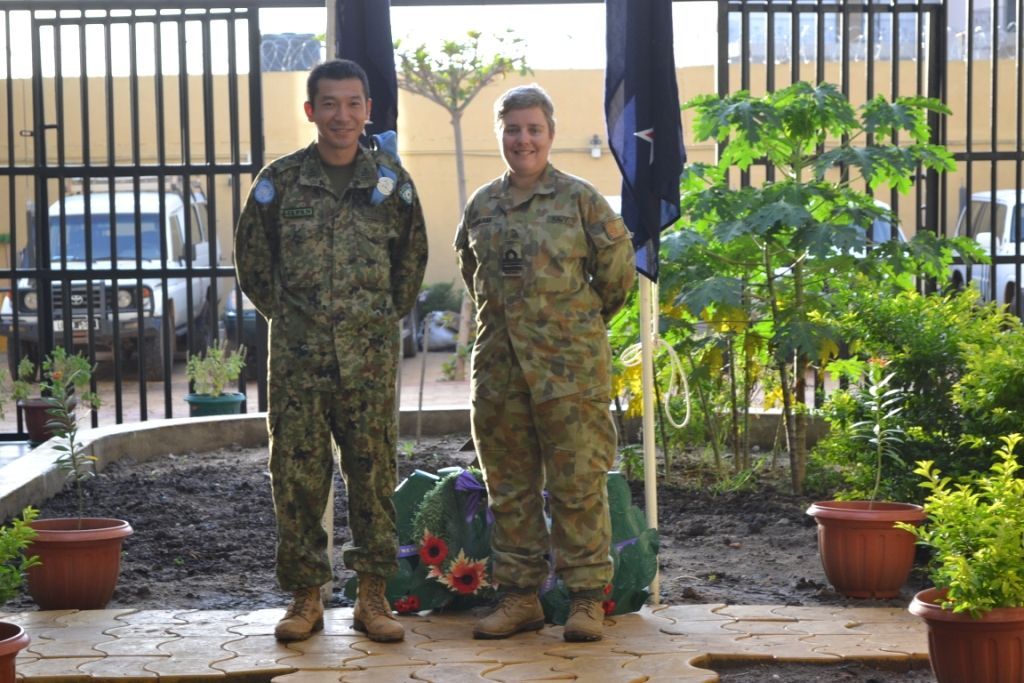 LCDR Donna Douglass, RAN, UNMISS Chief J1 and MAJ Muneyuki, SO J4 UNMISS