Drawing on leadership skills to contribute to healthcare reforms in Kenya – Dr Angela Nyambura Gichaga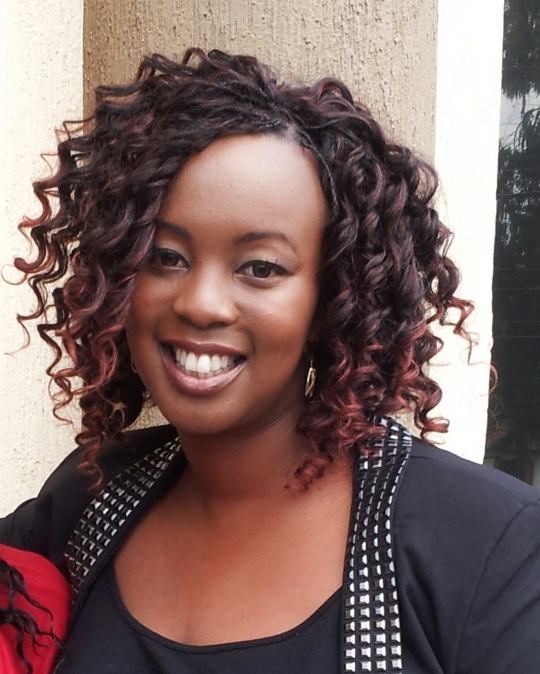 Six years into her healthcare career, Dr Angela Gichaga's list of achievements stands to impress.

The holder of a Bachelor of Medicine and Bachelor of Surgery (MBChB) degree, which was augmented by government training in Health Systems Strengthening for Managers, Angela has been at the forefront of health service delivery in Kenya as well as part of a multi-disciplinary team offering superior quality services in resource limited settings.

Having honed her skills in the Kenyan public sector as both a clinician and an administrator within the Ministry of Health across varied physical work environments, including city, rural and remote areas, Angela applied for and was awarded an Australia Awards Scholarship to study a Master of Health Economics and Policy at the University of Adelaide in South Australia in 2012.

Angela's leadership potential did not escape the Australia Awards selection panel and she was also selected for an Australia Awards Leadership Program Award to receive specialised leadership training and mentorship.

Through the Leadership Program, Angela was privileged to meet the Governor General of Australia, Her Excellency the Honourable Quentin Bryce AC CVO, (Commander-in-Chief of the Commonwealth of Australia). The Governor General, having identified the potential of African women to play key roles in improving livelihoods on the continent, linked female African Leadership Awardees with top female Australian government and business leaders at a networking event held on 21 October 2013 at Government House in Canberra, Australia.

It was at this networking event that Angela was introduced to her mentor, Professor Jane Halton ̶ the then Secretary, Department of Health and Ageing, South Australia ̶ who is also Chair of both the Executive Board of the World Health Assembly and the OECD's (the Organisation for Economic Co-operation and Development) Health Committee.

"I was privileged to be mentored by and to shadow top government officials who guided my leadership learning through internship placements in their respective organisations. The experience honed my understanding of the role of leaders in providing a vision and facilitating change. This exposure also built critical skills and knowledge and gave me a deeper understanding of policy development and implementation by witnessing how agendas transition from board room to community," Angela said.

Soon after returning home from the Award in December 2013, Angela was promoted in January 2014 to the role of Health Economist in the Directorate of Policy, Planning and Healthcare Financing (Monitoring & Evaluation) Unit within Kenya's Ministry of Health.

With her prominent position at the national policy-making level and bolstered by her newly acquired skills, Angela has been able to contribute significantly to the Kenyan healthcare system in various capacities, ranging from strategy development to monitoring and evaluation.

Drawing upon her Award-gained leadership skills, Angela planned and conducted capacity building of over 50 county health workers on M&E and coordinated the formation of approximately 17 county M&E technical working groups. Furthermore, she redesigned the nationwide Free Maternity Services programme by expanding the benefits package, increasing the population coverage and transforming the financing system from a purely reimbursement system to a mixed insurance and reimbursement system. The revamped programme is slated for rollout in the 2014/2015 fiscal year.
In addition, Angela guided the Directorates and Parastatals of the Ministry of Health to achieve their performance contracting obligations through monitoring and evaluation, as per the Ministry of Planning and Devolution guidelines, while also redesigning the Hospital Reforms tool to include the different facets of devolution.

Rounding out her remarkable portfolio of accomplishments is Angela's contribution to the development of several national healthcare policies, including the Medical Internship Policy and Guidelines, 2014; Universal Health Care Roadmap, ongoing; Healthcare Financing Strategy, ongoing; and the Health Sector Monitoring and Evaluation Framework Plan, 2014.

Angela links her successes to her Australian postgraduate qualification and leadership experience. "My Master of Health Economics and Policy empowered me with skills and knowledge on healthcare financing, a priority area in Kenya, which coupled with the leadership internship experience, allowed me to grow personally and professionally."

She added that her Australian experience enabled her to perform a situational analysis of Kenya's healthcare system and identify gaps in service delivery within the Kenyan Ministry of Health. Further, she has learnt to prioritise value for money and health equity both locally and nationally in ways that are efficient, cost effective, and which make optimum use of resources with maximum accountability to ensure quality, accessible, equitable, feasible and sustainable health service delivery.

By combining lessons learnt in Australia and harnessing the resources available in Kenya, Angela intends to continue to add value to the health services offered to her fellow Kenyans.