Kwaya Australia's Performance in Kampala, Uganda, 6 October 2012
Kwaya Australia, a choir consisting of singers from all parts of Australia, travelled to Uganda in October 2012 for two weeks to work with the local communities alongside the African Children's Choir. Activities included visits to children's homes, community and school restoration projects, and workshops in order to improve school facilities and share in music, arts, and dance. Kwaya promotes and generates cross cultural partnerships between indigenous and non-indigenous communities through singing. Kwaya aims to boost a widespread active community through music, focus on skills development for emerging artists, advance cultural diversity, and preserve and promote Australia's cultural heritage. The visit was supported by the Australian High Commission.
Led by renowned Australian conductor Jonathon Welch AM, Kwaya gave a concert with the African Children's Choir to celebrate Uganda's 50th anniversary of Independence.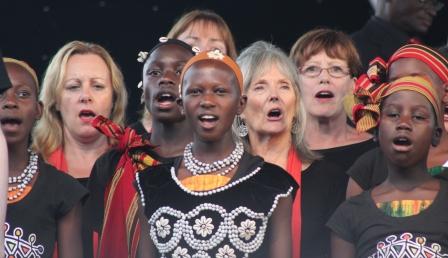 Kwaya Australia and African Children's Choir sing in a joint concert in Kampala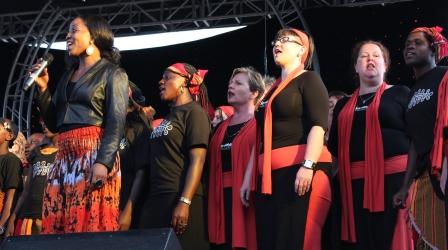 Kwaya Australia and the African Children's Choir sing the Diamond Jubilee Commonwealth song "Sing" with the African Children's Choir soloist, Lydia Inzikuru.