Immigration Services
Country Coverage
The Australian High Commission in Nairobi provides certain temporary, migration and citizenship services to residents of 22 countries in east, central and west Africa: Burkina Faso, Burundi, Cameroon, Central African Republic, Chad, Democratic Republic of Congo (DRC), Djibouti, Equatorial Guinea, Eritrea, Ethiopia, Gabon, Ghana, Kenya, Mali, Mauritania, Niger, Republic of Congo, Rwanda, Somalia, South Sudan, Tanzania and Uganda.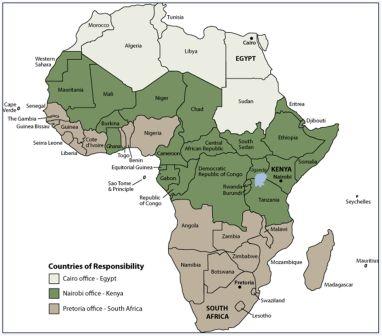 The Australian High Commission is also responsible for the Refugee and Humanitarian program in this region as well as the south and sub-Saharan parts of Africa (the Nairobi and Pretoria zone on the map).
Student visa applications are now processed by the Student hub at the Australian High Commission, Pretoria. See: African Student Hub
For information on how to lodge a visa application, see Making a visa application
Booking flights
You should not book flights or make travel commitments until you have a visa to travel to Australia. The department will not be liable for any financial loss incurred by clients whose visa application was finalised later than expected or where an application is unsuccessful.
Contacting the Australian High Commission
There are several ways to contact the Australian High Commission in Nairobi:
Our preferred method of contact is via email: immigration.nairobi@dfat.gov.au
If your enquiry cannot be answered by the information available on our websites, we aim to respond within 48 hours.
Please note that progress enquiries within standard processing times are unlikely to receive a response. This is to ensure that we devote our resources to progressing and finalising Visa and Citizenship applications.
For telephone enquiries you can call +254 20 4277 160 between 9am and 12 pm on weekdays
Migration Agents Outside Australia
For information about Migration Agents operating outside Australia, please follow the links below:
https://www.homeaffairs.gov.au/visas/migration-agents/_pdf/information-migration-agents-operating-outside-australia.pdf
You Tube – "Don\'t get caught out"
Contacts
For more information on the locations and contact details of our other offices in Australia and around the world, see Contacts