Opportunity to link research and practice enriches Award experience
(By Stephanie Carter & Adriana Abreu-Combs)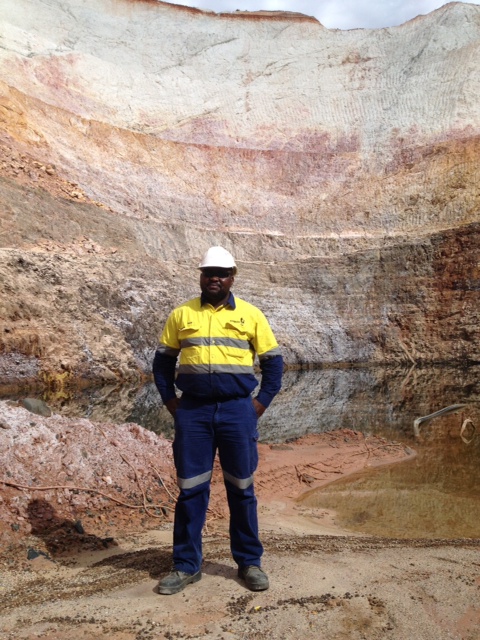 Saidi Mkwawa, a professional engineer registered with the Engineers Registration Board of Tanzania, is currently in the final semester of his Master of Science in Engineering (specialising in Metallurgy) at Western Australian School of Mines, Curtin University. Saidi's Australia Award experience exposes him to the potential for Australia-Africa linkages in the mining sector, and the benefits of practical training opportunities.
As part of his postgraduate program, Saidi participated in a two-month attachment at Mount Magnet Gold Processing Plant from December 2013 to January 2014, an experience he praises as highly relevant. Thanks to this practical opportunity, Saidi successfully built on his skills and knowledge and was able to apply his Master's research in gold mining within the Australian context.
'I had the opportunity to do an attachment at Mount Magnet Gold to work as a Metallurgist Trainee. In this role, I was allowed to operate all equipment available in the process plant, from the crushing ores up to the gold room. The training and working experience was extremely relevant to the work I do in my home country and allowed me to apply my course research in practice'.
Tanzania is Africa's fourth largest producer of gold. Gold mining is an important part of the country's economy and remains a mainstay of the sector, attracting major foreign investors. It provides a source of employment in mining communities, generating much needed income in the rural areas. Given the importance of gold mining in Tanzania's domestic economy and the need to ensure its benefits are broadly shared, the importance of streamlining operational processes for mining companies and strengthening reporting channels between mining companies and government remains essential. This area is a focus of Saidi's studies in Australia.
During the attachment, Saidi was also able to further specialise in the area of auditing and data analysis, skills that he will apply in Tanzania's gold mining sector upon returning home. 'During the training, I have learned that there is a gap in the auditing process in my country where auditors come into play only in the stage of gold production. Having experience in metallurgy and with the knowledge I am gaining in Australia, I will be better able to audit and advise on ways in which to reduce the cost of gold production, considering material inputs, and hence lower the cost of production to increase government revenue.'
Prior to his Australia Award, Saidi served as Senior Minerals Auditor at the Tanzania Minerals Audit Agency. In this role, he was involved in metallurgical auditing of quality and quantity of mineral exportable gold products. Liaising with large gold mining companies in the Tanzanian minerals sector, including the Bulyanhulu and Geita Gold Mines, Saidi worked to ensure that government mining shares and mining operations were conducted in a responsible and sustainable manner. He will return to this role after his graduation in July 2014.
Thinking ahead, Saidi feels confident that on return he will be in a better position to advise the Tanzanian Government to step up auditor training in areas of planning and forecasting in the minerals industry, and encourage mining companies to submit metallurgical operational reports to auditors on a regular basis. He will also advocate and push for improved environmental impact and corporate social responsibility programs to ensure the benefits of mining trickles down to mining communities and that mining operations are environmentally sustainable.
Fresh from attending the April 2014 Australia Awards Reintegration Workshop in Adelaide targeting returning scholars, Saidi is positive about prospects of successfully implementing his Work Plan on Return. Thanks to on-award opportunities such as the attachment at Mount Magnet Mine and the Reintegration Workshop, he has been able to diversify his skills and knowledge base and focus his Work Plan in areas in which his contribution on return will be more impactful. Furthermore, Saidi is keen to continue to explore the links he was able to establish during his attachment and has become a voice of encouragement for his peers regarding the benefits of practical training and attachments to the study experience.